Welcome to Performance Injection Tuning Services - PITS.net.au
- Specialised petrol engine management tuning for 20+ years.
- Tunes quality aftermarket and some factory petrol engine management systems.
- Known for high quality, safe, comprehensive tuning.
- Owned and solely operated by Matthew Spry.
- Qualified Mechanic and Bachelor of Information Technology.
- Based on Gold coast, Queensland, Australia.
- In house floor mounted Dyno Dynamic's 4wd dynamometer.

---
Supported aftermarket engine management systems
Link
Haltech
Emtron
Autronic
Apexi Power FC
Motec
Vipec
Microtech
EMS
Some other quality aftermarket engine management systems also supported, Please ask!
Supported factory engine management systems – Tuning the factory ECU
Holden Commodore VT - VF LS1 L77 L98 LS2 LS3 LSA using EFILive or HP Tuners.
Subaru from 2001 on.
Nissan engines with Nistune board fitted.
(Get Nistune.com to supply & fit any boards.)
Holden Commodore VN–VSII V8 and VN–VR V6 Memcals
Custom tuned on the dyno and naturally aspirated engines only.
Unsupported tuning systems
Carburettor tuning –> Sorry I do not tune carbys.
Diesel tuning –> Currently I do not like how it is done in Australia
and so do not offer any more than basic dyno power runs.
Emanage/Piggyback/HKS Fcon ecu tuning –> No thanks.
UniChip – I am not a Unichip dealer and so do not have the software to tune these.
Other Services
Minor Mechanical or Wiring Work
There are very few cars that do not need some adjustments, fixups, etc throughout the course of a tune.
I am happy do small amounts of corrective/finishing mechanical and wiring work to keep jobs going.
This is usually at additional cost to the estimate that I will have given you for the tune.
If your car requires a large amount of additional work not estimated for there may be a delay in the completion your job,
or require you to fix the vehicle and rebook at a later date.
I am in no way a one stop shop.
Adjusting Vernier Cam gears on the dyno
Dyno Power runs
Speedometer checks
Some Diagnostics work but usually in conjunction with an engine whose tuning system I support.
I do not do: General servicing, turbo/exhaust/intercooler/cam/engine fitting or engine rebuilding etc.
Parts: I keep a range of parts in stock to keep jobs going. Eg spark plugs, fuel filters, hose clamps, vacuum and some silicone hoses.
Aftermarket ecu Installs:
Plug and play systems -> no problem.
Wire in systems -> Sorry I do not wire in ECUs to cars.
I do have a couple of different professionals to recommend depending on which vehicle/ecu you have, ask me.
Runin Tunes: I regularly runin/beadin/breakin engines on the dyno.
Much safer to do on the dyno knowing the tune is correct.
Giving the fresh engine a good amount of varied load and revs in the critical breakin period.
I follow what you and/or your engine builder wants for in terms of length of time/oil/procedure of the runin.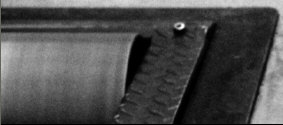 ---
Getting a tune, What do you need to do?
Prepare the car:
Oil -> full and fresh
Coolant system -> Full, bleed if possible
Fuel -> Correct octane/type, Full and not old/stale
(Before you come discuss flushing the fuel system if changing fuel type)
No Leaks -> Oil, Cooling, Exhaust systems, Intercooler pipes
Tyres -> Not bald, not damaged, not too old and not brand new
(New tyres need to have done about 50km/or one decent heat cycle)
An idea of where you would like the rev limiter,
and if turbocharged how much boost you would like to run.
A Spec sheet of modifications done to the car, a list of know problems or issues that you would particularly like addressed.
New Injectors? While I have data for most common injectors please supply the spec sheet if it came with the injectors
The more you can do before you bring the car to make the job run smoother the better for both of us and cheaper for you.
This is by no means a complete list but use your common sense if it's not right fix it.
---
PITS contact information
Performance Injection Tuning Services
Unit 10 / 42 Export Drive
Molendinar QLD 4214
Australia
Phone/SMS: 0411 34 00 33
Email:

I will apologise in advance that I am hard to get hold of. As a one man show answering the phone can be difficult for me, especially when I am on the dyno.
If you cannot get me on the phone send me an email or text message and I will get back to you, this unfortunately make take a number of days.
(Please don't leave voice mail)
Hours of operation
Monday to Friday 9.00am to 5.30pm
Bookings
Generally I am bookings two to four weeks in advance. But if you have a specific date you want, get in early.
Payment
Preferably Eftpos or cash.
MasterCard or Visa plus 1.5%
(No Cheques or Accounts)

---
How to find PITS:
Pop map to new window to make it easier to print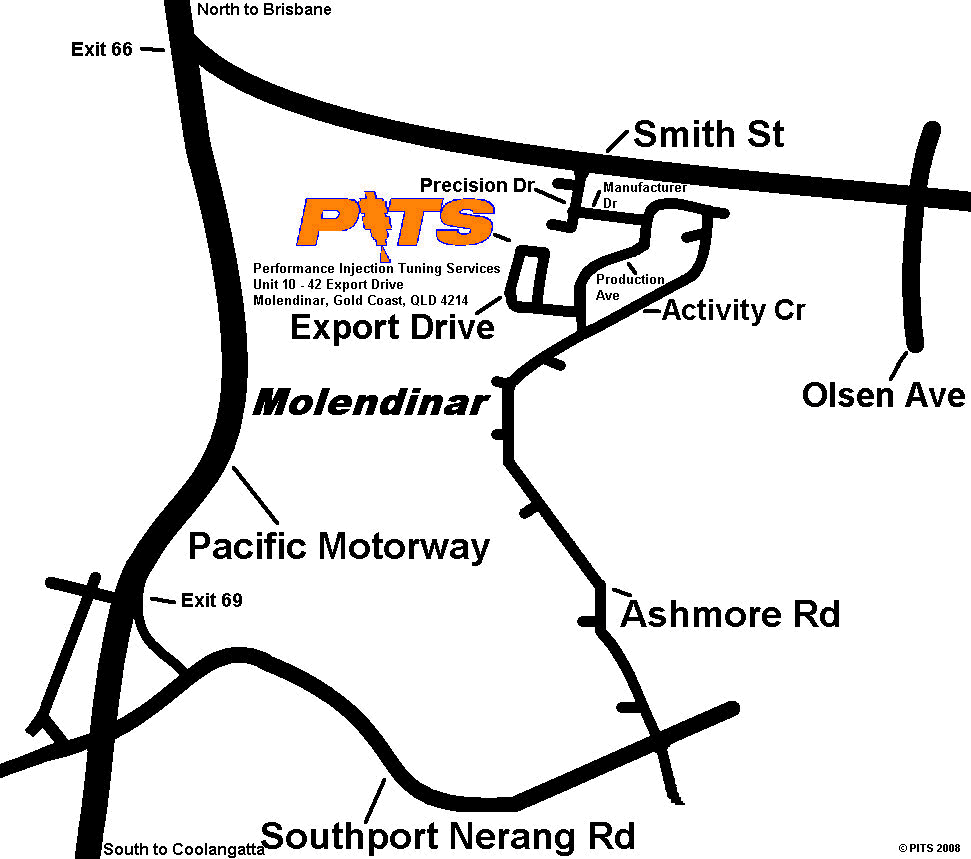 © PITS 2020